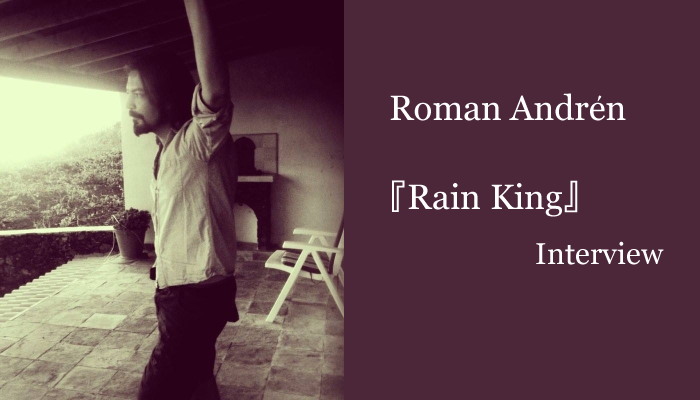 ƒJapanese"@@ƒEnglish"@@ƒ"Juanita" interview"



Roman Andrén new album "Rain King" interview.


Q1: Is this time a work conscious of African beat?


A: When I start working on an album I go through ideas I have, and let the ideas dictate which musical direction I want to go.
In that phase the only thing I follow is the lust for what feels enjoyable to work with.
This is my second collaboration with afrobeat-collective Kakaraka Band, and I felt I wanted to further explore afrobeat, simply because I love the music so much, as well as the musicians I have the pleasure of knowing.
Creating should be based in creativity, and only that I think.
When it comes to different modes of music, different cultural origins, I always like to stay loyal to that culture's more eternal symbols. Stuff like symbols and mystic meanings interests me alot.



Q2: Please tell me the reason that it took 3 years from a previous work,"The Oyster Of Basatan".


A: When I had finalized The Oyster Of Basatan I was really beat.
I really poured my inspiration into that one and took it to musical landscapes I had never visited before.
Almost immediately I started working on Rain King, as the third installment in my afro-trilogy, Oyster of Basatan being the first and now Rain King being the second.
The work was really hard, I struggled alot with reaching the sound I wanted and after a two years, when I had planned to release it, I simply felt that it wasn't ready yet.

To me, my albums are made from love and visions, I am not in the music business to be productive without quality, I need to feel satisfied with what I release otherwise it needs more time.
Rain King took me three years, and I can honestly say that I am truly happy with it.



Q3: When there is a striking affair by recording, please tell me.
Recording is always intense.


A: I try to record with musicians that I also consider my friends, simply because the energy is more important to me than knowledge.
As long as a person mean what they play, they touch my soul, it doesnft matter if he or she has been playing for 20 years or for two years, I go with the energy.



Q4: Please introduce about KAKARAKA BAND.


A: I first met saxophonist Nils Lidman and singer/saxophonist Positive Oluwo who founded the band a few years back. I felt like coming home playing afrobeat.
It has a continuity, a pace, a flow and a groove that makes me feel the magic of playing again.
I fell in love with both afrobeat and the people of Kakaraka Band.

We played several gigs and when I started making my own music inspired by afrobeat, it was a necessity to ask Kakaraka Band if they would like to join the Rain King. I had musicians from both Kakaraka Band and musicians I knew from other constellations coming together and the result was magic in my ears.



Q5: What kind of person is Positive Oluwo in Vocal?


A: I have the deepest respect and brotherly love for Positive. He is like a musical brother to me.
We look at music the same way I think. Like an enormous, divine, spiritual, magical force, not to be taken too lightly, but not to be taken too serious either.
With both focus and seriosity, as well as with a childish curiously, still true to tradition.
We are both very light in our souls, driven by lust to create and to play.

I am very happy to have met him. When I wrote the lyrics for the tracks on Rain King, I wrote lyrics to everything, even the instrumental ones.
But I wanted them to be in Yoruba, a language spoken mostly in Nigeria, Africa. Positive and I made translations of the lyrics and created vocal lines. It was a very creative and free experience. He, in the hands of my ideas, and me in the hands of his.
When he later lay the vocals I felt the album land in many ways, coming into real context.



Q6: Please tell me the process into which Gee Bello was received on "And The Wind Blows"?


A: That is a funny story! I have always been a huge fan of Incognito and Light of The World.
When I became facebook friends with Gee Bello, (who was with Incognito on their first album, and later co-founded Light of the World), we started to talk.
I had a track on the album Rain King, that I didnft know what to do with. I tried to sing it myself but it didnft make it justice I felt. So then I asked Gee, who wanted to sing it!
He recorded the vocals from England and I started mixing them in. His power and energy blew me away and fitted the song perfectly.

Later he invited me to England to play with soul legends Tom gFunkinffor Jamaicah Brown and Joyce Sims (Come Into My Life and other gems), so I went to England for a few weeks last summer and played with Light Of The World, Tom Brown and Joyce Sims.
Plans were made to maybe collaborate, but we will see what happens.
I had a wonderful time with Gee and his wife, and hope for more collaboration later on.



Q7: What is Afro Funk for you?
When needing a favorite artist in Afro Funk, please tell me.


A: I have a few ghousehold Godsh of music; Deodato, Bob James, Barry White, Jobim, but also Fela Kuti, one of the inventors of afrobeat.
Fela Kutifs music is almost sacred to me, it is like a classical piece, led by a conductor.
It is funky as hell, but at the same time religious and subliminal, afrobeat works on so many levels.
For some reason my melodic sense gets many ideas for afrobeat-like melodies. I could make ten afrobeat albums if I had the energy.Still my hard drives are full with hundreds of ideas for different types of songs, latin, funk, brazil, classical, afrobeat and movie scores.

To create is the drive for me, and what makes me truly happy. I try to create in everything I do, if it is in music, writing, acting, talking, or playing doesnft matter. As long as it is creative.



Q8: Recently,are you play as DJ? What kind of tune are you playing?


A: Yes, I have been DJing for many years, that has been a way of earning money without taking the energy of creating away. I love to DJ, to make people dance, and to create different moods for different occasions. I DJ at clubs, parties, but also art galleries, even exhibitions.

The music I play is always in the line of the music I love, jazz/soul/funk/disco/brazil/afrobeat 70fs and 80fs. I have realized that in order to get energy to create, I need to do stuff I love to do. Itfs that simply, I think, to achieve a life less ordinary.

We seems to forget the drives we had as kids, our curiosity, and following our hearts more and not our brains all of the time. Also, I have a club in Sweden called gMaster Zanoongafs Love Potionh, Alchemistic funk-brewing, strictly old school disco/boogie/funk. Me and my colleague Rob Love Dj, together with percussionist Sal Dibba, also on rain King. The energy is enormous! Book us in Japan some day! :)



Q9: When visiting Japan in 2009, how was a Japanese impression?


A: Wow, it really changed me in so many ways. It gave me the fundamental drive to keep on creating, I think. I met with so much love and appreciation, that it blew me away. I felt I had thousands of new friends in an instant, it was really powerful. Also, meeting fans that dig and understand what I do, was a huge kick. I would love to return!



Q10: Please tell me interested thing besides the music recently?


A: Wow, I donft know where to start! Haha. I have lost the love of my life, and won her love again. It has been a necessary, but to say the least tough time.
All the songs on Rain King depicts our love. So recently I have been sadder than ever before, and now I am happier than ever before. Sad/happy, instead of happy/sad. Life is filled with contrasts, it really is. And I am happy it is.



Q11: What kind of album would you like to make from now on?

A: I have a lot more ideas in the afrobeat genre, as well as brazilian or funk-style, but as for now I am going to release my first album Ambessafs Dream for the first time in Japan. It was first released in 2004, and is the only one I have not released in Japan yet.
It was my first try, my first big idea transformed into physical form.

It feels very good to be able to say that all my albums have been released in your country. It makes me very proud.
The only thing I can say is that my next new album will be like a summer breeze, with lots of funk and all that jazz.



Q12: Message for a Japanese reader, please.


A: Hi! Well, I would like to introduce myself. My name is Roman Andrèn, musician, songwriter, arranger and DJ, living in Sweden.
I believe in trying things out the way our hearts tells us. I believe in honesty, I believe in love and creation. What are your passions?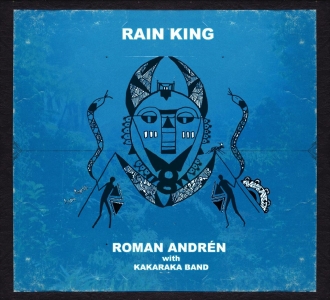 "Rain King" Roman Andrén

1. The Child That I Am (Omo Kekere Ti Moje)
2. It's A Beautiful Day
3. My Heart Belongs To You (Tie Nin Se)
4. And You Never Said Goodbye
5. Rain King (Oba Ojo)
6. Where You Go, I Go (Osope Kin Duro Moduro)
7. You Said You're Sorry
8. Morning Dew
9. Say It, Then I Listen (So Kingbo)
10. Joy, Look For Me (Idu Nu Wa Mi Wa)
11. And The Wind Blows (Feat. Gee Bello)
12. A Brand New Start
13. The Child That I Was (Outro)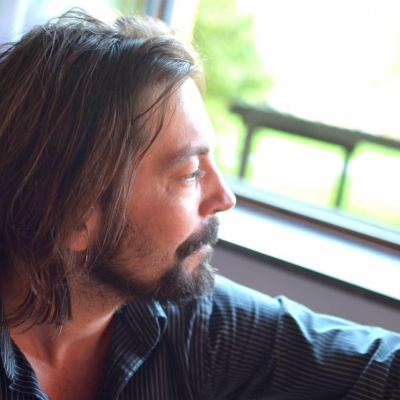 Roman Andrén facebook page
https://www.facebook.com/romanandrenmusic/